Keeping up appearances sometimes requires extraordinary effort. A lot can be overlooked when someone is young, pretty, perky, and in good health. But when tragic events darken one's days, desperate times require desperate measures.
Whether a person develops elaborate schemes to hide a secret or, stripped of his usual support system, must improvise on the spot, imagination and resilience become key factors in keeping a secret a secret.
* * * * * * * * * *
In a joint project between the California Shakespeare Theater and Intersection for the Arts, an all-female production of Twelfth Night recently toured a wide variety of venues ranging from Intersection's home base in the San Francisco Chronicle Building to the Alameda County Juvenile Detention Center and the Berkeley Food and Housing Project.
With an ebullient musical score composed by Peter Vitale, this production was directed by Michelle Hensley, who explained that:
"Shakespeare performed this play with a single-sex cast. All the roles were played by men. This must have increased the layers of confusion the characters felt when they fell in love with someone who turned to be the 'wrong' person. I wanted to find out what would happen if the cast was only women. I think the confusion is equally delightful, and highlights how each of us has a male dimension and a female dimension, no matter our gender. I love the way Twelfth Night explores how falling in love can be an escape from enormous pain. So many characters in the play find themselves 'shipwrecked,' facing enormous losses in their lives, and at a loss about just where to go or what to do next. Suddenly, someone wondrous and magnificent appears, someone whose love, if returned, could make all of your problems and pain vanish! Who wouldn't jump onto such a life raft?"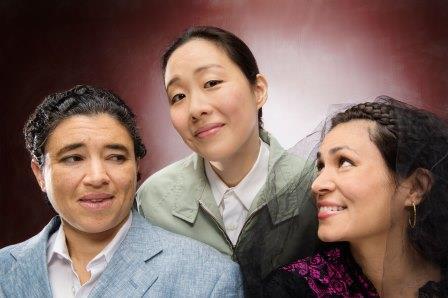 Rami Margrom, Cindy Im, and Maria Candelaria appear
in Shakespeare's Twelfth Night (Photo by: Kevin Berne)
Working with minimal sets and costumes in a four-sided arena arrangement of chairs that accommodated 80 people, the cast was led by Maria Candelaria as the rich and regal Olivia, Catherine Castellanos as a raucous Sir Toby Belch, and Patty Gallagher as the foolish Andrew Aguecheek. Nancy Carlin did double duty as Olivia's steward, Malvolio, and the Duke's servant, Valentine, while Cindy Im doubled as the shipwrecked Viola and her twin brother, Sebastian. Rounding out the cast were Rami Margron (as Duke Orsino and Olivia's servant, Maria). Sarita Ocon appeared as both as Olivia's jester, Feste, and Sebastian's friend, Antonio.
While the performance was lively, quite charming, and often filled with laughs, in the interest of full disclosure, there were moments when I had trouble concentrating due to some unexpected somatic pains (the first time I've ever had to take a Vicodin at intermission).
* * * * * * * * * *
My reaction to the American Conservatory Theater's new production of Eduardo de Filippo's 1945 play, Napoli! was muted for very different reasons. Much of the play focuses on the black market activities of Donna Amalia (Seana McKenna) in 1942 (when Naples was frequently being bombed by Allied forces and simple household staples were extremely difficult to obtain). Act II takes place 14 months later, following the liberation by Allied Forces who brought hope, joy, and an economic upturn to an exhausted population that had been battered by a brutal combination of poverty and Fascism.
With a unit set designed by Erik Flatmo, Mark Rucker directed the play's large cast with an eye toward capturing the essential humanity underlying the financial and emotional stresses on Don Gennaro (Marco Barricelli), his family, and their neighbors.
In discussing the importance of the Neapolitan dialect to Italian audiences, the great American playwright, Thornton Wilder, described De Filippo's writing as "forever unEnglishable." Although a new translation by Beatrice Basso and Linda Alper premiered several years ago with this production's debut at the Oregon Shakespeare Festival, all of the translators' intense research seems like an academic labor of love that did not produce a drama with a great deal of tension. As A.C.T.'s artistic director, Carey Perloff notes:
"The act of translation is truly a rescue mission that can bring alive a play from a distant time or culture for a new audience. De Filippo is particularly challenging to translate because his Neapolitan dialect is so pungent and particular. There is a music to his language that needs to be carried forward and re-imagined. For me, hearing this lovely new American translation is almost like hearing a new play, full of discoveries and life, but also remarkably true to its original source material."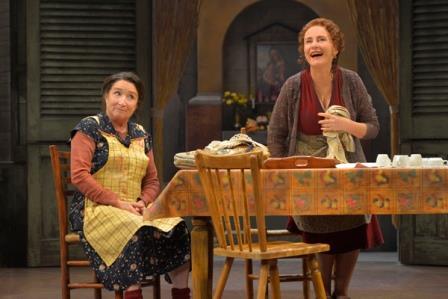 Adelaide (Sharon Lockwood) and Donna Amalia (Seana McKenna)
in a scene from Act I of Napoli! (Photo by: Kevin Berne)
Unfortunately, De Filippo's play (which is nearly 70 years old) is showing its age. One never gets the feeling that anyone or anything could threaten Donna Amalia (who has all kinds of contingency plans up her sleeve). When a neighbor reports her to the authorities for selling black-market coffee, a well-rehearsed scam (in which her husband, Don Gennaro, pretends to be dead) is quickly set into motion moments before police officer Ciappa (Gregory Wallace) arrives on the scene.
This type of charade is as old as the commedia dell'arte. Inspired by a character mentioned in Dante's Inferno, Giacomo Puccini breathed new life into the deception with his one-act opera, Gianni Schicchi (which received its world premiere as the final act of Il Trittico at the Metropolitan Opera on December 14, 1918).
In De Filippo's play (which was originally known as The Millionaire of Napoli) there are intricately plotted relationship problems — so carefully positioned that one can almost sit in the audience ready to give a stage manager's cues for a specific character's entrance.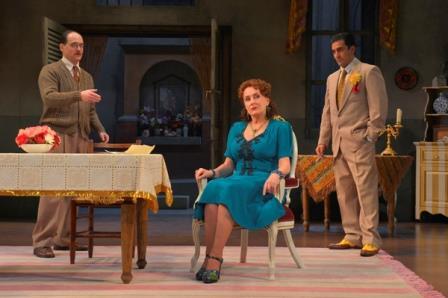 Anthony Fusco, Seana McKenna, and Dion Mucciacito
in a scene from Act II of Napoli! (Photo by: Kevin Berne)
Don Gennaro disappears between acts and is believed to be dead. His sudden, disillusioned, confused, and grimy return from the war raises all kinds of questions.
Will Donna Amalia fall for the slick charms of her business partner, Errico Settebellizze (Dion Mucciacito), who would really like to give her the business?
Will her handsome young son, Amedeo (Nick Gabriel), get nabbed by the police for stealing tires from automobiles?
Will her callousness toward a local accountant named Riccardo Spasiano (Anthony Fusco) come back to haunt her when her youngest daughter is perilously ill and everyone in the area is hiding the medicine necessary to keep her alive?
Will her oldest daughter, Maria Rosario (Blair Busbee), who has given up her virginity to an American soldier, bear an illegitimate child?
Under normal circumstances, such questions might hold the audience in the playwright's dramatic grip. But Donna Amalia's black market business has always been something that her husband did his best to ignore and, although it has helped her to feed her family, it has not been able to prevent her from getting a taste of her own medicine by the final curtain
Although her friend Adelaide (Sharon Lockwood) is always on hand for support, and the giggly Assunta (Lisa Kitchens) provides some comic relief as a "perhaps" widow who doesn't know whether it's time to stop mourning.and get on with her life, I found myself less impressed with Don Gennaro's final attempt to heal a family which has survived on lies and deceit than I was simply underwhelmed by the entire venture.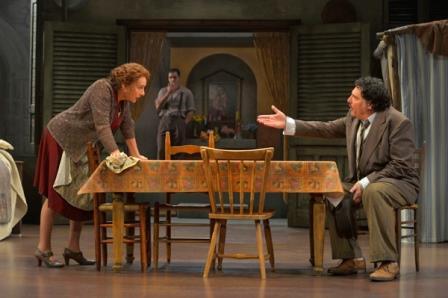 Donna Amalia (Seana McKenna) and her husband, Gennaro
(Marco Barricelli) in a scene from Act II of Napoli!
(Photo by: Kevin Berne)
In situations like this, it's always valuable to ask "What did I take away from this experience?" The answer (which truly shocked me) proved that my experience was not what the playwright or director had intended. In the tiny role of Miezo Prevete, one of the Bay area's most reliable character actors (Gabriel Marin) delivered the finest impression of Art Carney's unforgettable Ed Norton (from The Honeymooners) I've ever seen.
To read more of George Heymont go to My Cultural Landscape
Arts – The Huffington Post
ENTERTAINMENT NEWS-Visit Adults Playland today for the hottest adult entertainment online!